The Peugeot 5008 at Research Garage
The 5008 is available with a range of petrol and diesel engines, as well as a hybrid option. Depending on the engine, it may come with a manual or automatic transmission. The SUV is equipped with features such as a touchscreen infotainment system, adaptive cruise control, parking sensors, and a panoramic sunroof.
In terms of safety, the Peugeot 5008 has been awarded a 5-star Euro NCAP safety rating, thanks to its numerous safety features such as lane departure warning, automatic emergency braking, and blind-spot monitoring.
Take it for a test drive today
UNCOMPRIMISED
DRIVING PLEASURE



In order to stay one step ahead in terms of style, the front of the PEUGEOT 5008 is moving towards a style that is as distinctive and unique as ever. This bold design sets the codes for a new phase of modernity, while at the same time providing calibre and a move upmarket. A new frameless grille symbolises the increasingly modern style, while maintaining a fluid design. In the designer's words, it extends with fins under the headlamps to connect all of the elements. And lastly, the nose of the bonnet now proudly displays the model's monogram.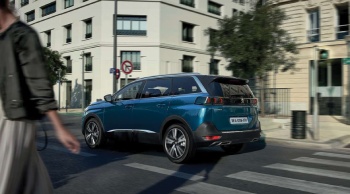 To emphasise this vibrancy, shiny black side scoops and a painted tread plate have been included into the new bumper from the first trim level. There is a specific grille on the GT / GT Pack with a scalable design pattern to emphasise the stylistic upgrade of the GT versions. The front headlamps have also been redesigned to be more aggressive and to split even more from current codes. They include LED technology from the very first level and are extended by hook-shaped DRLs with a chrome tip. This light signature is perfectly in line with the current Peugeot style and is identifiable at first glance. On the GT / GT Pack levels, Full LED headlamps offer an even more high-tech and distinctive look, thanks to the extended light signature and the bend lighting function (EVS) which optimises visibility at speeds of up to 90 km/h.
Of particular note is the replacement of the fog lamps with the "Foggy Mode" function, integrated into the Full LED headlamps, which switches on the low beam headlamps with reduced intensity when the rear fog lamps are activated.

General Enquiry
Please provide your details below and a member of our team will be in touch
Email us
Please provide your details below and a member of our team will be in touch
Test Drive Booking
Please provide your details below and a member of our team will be in touch